The INTTRA by E2open Global Services team, with offices in three continents, is dedicated to ensuring customers can successfully utilize the INTTRA Platform. With over 18 years supporting electronic booking transactions for the ocean shipping industry, INTTRA's global coverage and comprehensive global support services will ensure your business is always in capable and experienced hands, no matter the challenge.
Global Support Services is Ready to Help
Available around the clock, the INTTRA Global Services team is ready to help. Need a new service integrated with your system? Adding carriers? Adding users? Our Global Services team is available in your preferred channel.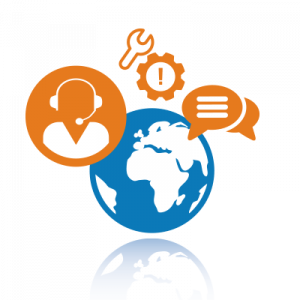 Global Toll Free Directory:
Country
Phone
Languages
Times
Argentina
800 666 0405
Spanish, English
Spanish: Monday – Friday 10 AM – 8 PM Local Time
English: Monday – Friday 24 Hours
Australia
1 800 730969
English
English: Monday – Friday 24 Hours
Bangladesh
09610-998404
English
English:
Monday – Friday 24 Hours
Saturday 12 PM – 8:30 PM Local Time
Sunday 12 PM – 8 PM Local Time
Belgium
0800 70950
English
English: Monday – Friday 24 Hours
Brazil
0800 8881126
Portuguese, English
Portuguese: Monday – Friday 8 AM – 6 PM Local Time
English: Monday – Friday 24 Hours
Canada
1 866 786 9299
English
English: Monday – Friday 24 hours
Chile
800 914 484
Spanish, English
Spanish: Monday – Friday 10 AM – 8 PM Local Time
English: Monday – Friday 24 Hours
China
400 120 4931
Mandarin, English
Mandarin: Monday – Friday 8:30 AM – 6 PM Local Time
English: Monday – Friday 24 Hours
Colombia
1 800 518 5275
Spanish, English
Spanish: Monday – Friday 8 AM – 6 PM Local Time
English: Monday – Friday 24 Hours
Denmark
80831093
English
English: Monday – Friday 24 Hours
Egypt
0800-000-9693
English
English:
Monday – Friday 24 Hours
Saturday 8 AM – 4:30 PM Local Time
Sunday 8 AM – 4 PM Local Time
France
0805 081 596
English
English: Monday – Friday 24 Hours
Germany
0800 1816 638
English
English: Monday – Friday 24 Hours
Ghana
24-2426322
English
English: Monday – Friday 24 Hours
Hong Kong
800930 511
Mandarin, English
Mandarin: Monday – Friday 8:30 AM – 6 PM Local Time
English: Monday – Friday 24 Hours
India
000 800 050 1373
Hindi, English
Hindi: Monday – Friday 9 AM – 9 PM Local Time
English: Monday – Friday 24 Hours
Hindi and English: Saturday 11:30 AM – 8 PM Local Time
Indonesia
+62 21 50851404
Bahasa, English
Bahasa: Monday – Friday 8:30 AM – 5 PM Local Time
English: Monday – Friday 24 Hours
Israel
1809 467 216
English
English:
Monday – Friday 24 Hours
Saturday 8 AM – 4:30 PM Local Time
Sunday 8 AM – 4 PM Local Time
Japan
120 692 363
Japanese, English
Japanese: Monday – Friday 8 AM – 5 PM Local Time
English: Monday – Friday 24 Hours
Kenya
0800-221359
English
English: Monday – Friday 24 Hours
Malaysia
0154 877 0371
Bahasa, English
Bahasa: Monday – Friday 8 AM – 4 PM Local Time
English: Monday – Friday 24 Hours
Mexico
01 800 099 0645
Spanish, English
Spanish: Monday – Friday 9 AM – 5 PM Local Time
English: Monday – Friday 24 Hours
New Zealand
0800-748300
English
English: Monday – Friday 24 Hours
Nigeria
070-80601106
English
English: Monday – Friday 24 Hours
Pakistan
51 8108897
English
English:
Monday – Friday 24 Hours
Saturday 11 AM – 7:30 pm Local Time
Panama
800 2592
Spanish, English
Spanish: Monday – Friday 8 AM – 6 PM Local Time
English: Monday – Friday 24 Hours
Peru
0800 78 279
Spanish, English
Spanish: Monday – Friday 8 AM – 6 PM Local Time
English: Monday – Friday 24 Hours
Poland
0-800-141-0334
English
English: Monday – Friday 24 Hours
Saudi Arabia
800-885-2159
English
English:
Monday – Friday 24 Hours
Saturday 9 AM – 5:30 PM Local Time
Sunday 9 AM – 5 PM Local Time
Singapore
800 492 2322
English
English: Monday – Friday 24 Hours
South Africa
0800 999 375
English
English: Monday – Friday 24 Hours
South Korea
80-880-2099
Korean, English
Korean: Monday – Friday 9 AM – 6 PM Local Time
English: Monday – Friday 24 Hours
Taiwan
00801-491-211
Mandarin, English
Mandarin: Monday – Friday 8:30 AM – 6 PM Local Time
English: Monday – Friday 24 Hours
Thailand
1 800 012 304
Thai, English
Thai: Monday – Friday 8:30 AM – 5:30 PM Local Time
English: Monday – Friday 24 Hours
UAE
8000 320 347
English
English:
Monday – Friday 24 Hours
Saturday 10 AM – 6:30 PM Local Time
Sunday 10 AM – 5 PM Local Time
United Kingdom
0800 088 5549
English
English: Monday – Friday 24 Hours
United States
1 866 786 9299
English, Spanish, Portuguese
English: Monday – Friday 24 Hours
Spanish: Monday – Friday 8 AM – 6 PM EDT
Portuguese: Monday – Friday 8 AM – 6 PM EDT
Uruguay
000 416 205 6393
Spanish, English
Spanish: Monday – Friday 10 AM – 8 PM Local Time
English: Monday – Friday 24 Hours
Vietnam
0244 458 2085
Vietnamese, English
Vietnamese: Monday – Friday 8:30 AM – 5:30 PM Local Time
English: Monday – Friday 24 Hours